Parties & Events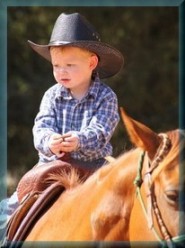 Looking for a unique setting and fun activities for your outing or birthday party? Want to avoid the hassle of planning everything yourself? Let us host your event.
We are happy to work with you to create your own unique event package. All activities are tailored to the purpose of the event and with the ages of the participants in mind.
Costs of activities vary; please contact us for details. A non-refundable $50 deposit is required when booking an event.
Anyone riding a horse must sign a waiver. Riders under age 18 must have a parent/guardian signature and wear a safety helmet while riding (helmets provided).
Where Are Events Held?
Most parties and events are held at our facility in Fountain Inn, SC (get directions), and some activity options are available only there.
However, we can also bring our services to you, complete with round pen, horses, and hay. Travel expenses are added to the basic activity costs.
Popular Activity Options
Stumped for ideas? Here are some popular activities (singly or any combination):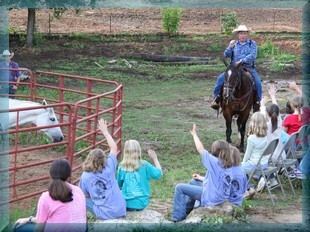 Nature of the Horse Demonstration:

Watch Bev work with a horse in our round pen, then ride bridleless. As she works, Curt describes the nature of the horse, our relationship with them, and how that relates to our relationship with the Lord.

The Cowboy's Armor:

Interact with Curt as he explains why cowboys dress the way they do, and how a real Christian cowboy should behave.

Horsemanship Workshop:

Learn how to handle, groom, and saddle horses safely and comfortably.

Riding Lesson:

Take a riding lesson in the arena. Depending on the age and proficiency of the riders, we may stay in the arena or take a trail ride. Very young or timid riders may be led around the arena.

Roping Lesson:

Learn how to rope a steer like a true cowboy or cowgirl.

Bonfire:

Roast hot dogs and marshmallows or just sit and enjoy a cozy bonfire, just the kind the cowboys make during long cattle drives.

Trail Ride:

Take a guided horseback ride through woods, streams, and fields. All rides begin with brief instruction in our round pen or arena before the ride. Experienced riders may also request to trot and lope (final decision left to the discretion of the guides).

Games:

Plan and bring materials for your own games, such as sack race, three-legged race, bob for apples, find candy in a haystack, find-the-horseshoe, etc.
Party Packages
No time to plan a party on your own? Take a look at some of our pre-planned package options:
Trail Boss' Choice

Duration: 3 hours
Activities: After a nature of the horse demo, we take riders to the barn and explain how to handle themselves around horses safely. Our wranglers help them groom and saddle, then we teach them how to ride in the arena. Depending on the group, we will determine if we will go on a trail ride or stay in the arena and do fun activities there.
Favors: Authentic horse shoe to each rider
Cost: $300 for 5 riders, $50 per additional rider

Wranglers' Round-Up

Duration: 2 hours
Activities: After a nature of the horse demo, we take the riders to the barn and explain how to handle themselves around horses safely. Our wranglers help them groom and saddle, then we teach them how to ride in the arena.
Cost: $250 minimum of 5 riders, $40 per additional rider

Ranch Hands' Hoorah

Duration: 1.5 hours
Activities: After a nature of the horse demo, party attendees will take turns riding our horses in the arena. Our wranglers will lead horses for young children.
Cost: $150 for 3 horses; $40 per additional horse